Go to Expense --> Expense Claim
Here you can manage employee claim forms by approving and rejecting, if your company doesn't require employees submit claim forms in ESS, you can also create their claim forms here.
There are few stages for a claim form application:
Stage 1) Preparing - the employee is drafting the claim form, but not submit to the approver yet
Stage 2) Pending - the employee had already submitted the claim form, pending approver to approve
Stage 3) Approved/Rejected - the claim form was either approved or rejected by approvers
Stage 4) Reviewed - the claim form was reviewed after all approvers had approved this claim
If the claim form was reviewed, that means the claim amounts were pending to be paid to the employee, we will go through "how to pay claim" later.

Approve/Reject employee claim forms
Click into the claim forms & you will see the approval actions at "More"
Resend notification email: Emails employees & claim approvers to report application status
Approve/Reject the application: If the claim form(application) was approved, it will be added to "Expense Payment" batch, pending you to transfer payment to employees.
Print: For you to print a hard copy for reference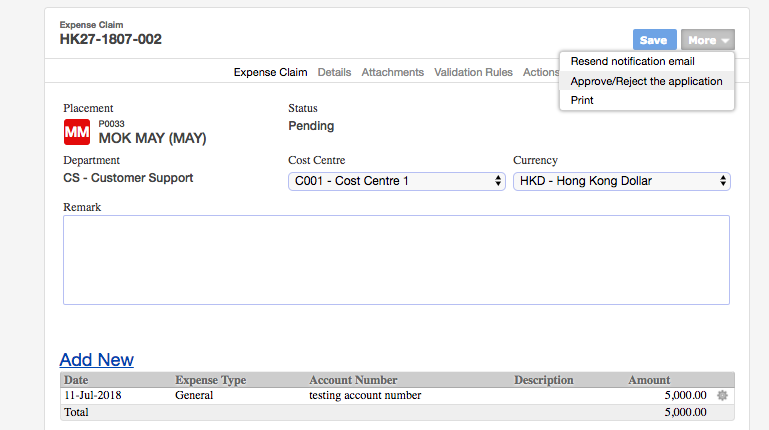 Review employee claim forms
After the claim form was approved, click "More" button for review action
Next > Step 3: Paying for Approved Expense Claims